The Knowle West Alliance is gathering information on what services, shops, and facilities are open in the area. We will share this information here, on www.knowlewest.co.uk and our Facebook Page as soon as possible.
We Are Bristol coronavirus hotline
A dedicated telephone hotline launched in Bristol in March to help the city's most vulnerable citizens during the coronavirus pandemic is still available.
Emergencies
People in urgent need can call the #WeAreBristol helpline to receive food, medicine and other necessities on (freephone) 0800 694 0184 (Monday to Friday, 8.30am to 5pm and Saturday to Sunday 10am- 2pm).
A 24/7 helpline is also available for people in Bristol to get immediate emotional and practical mental health support, on 0800 012 6549.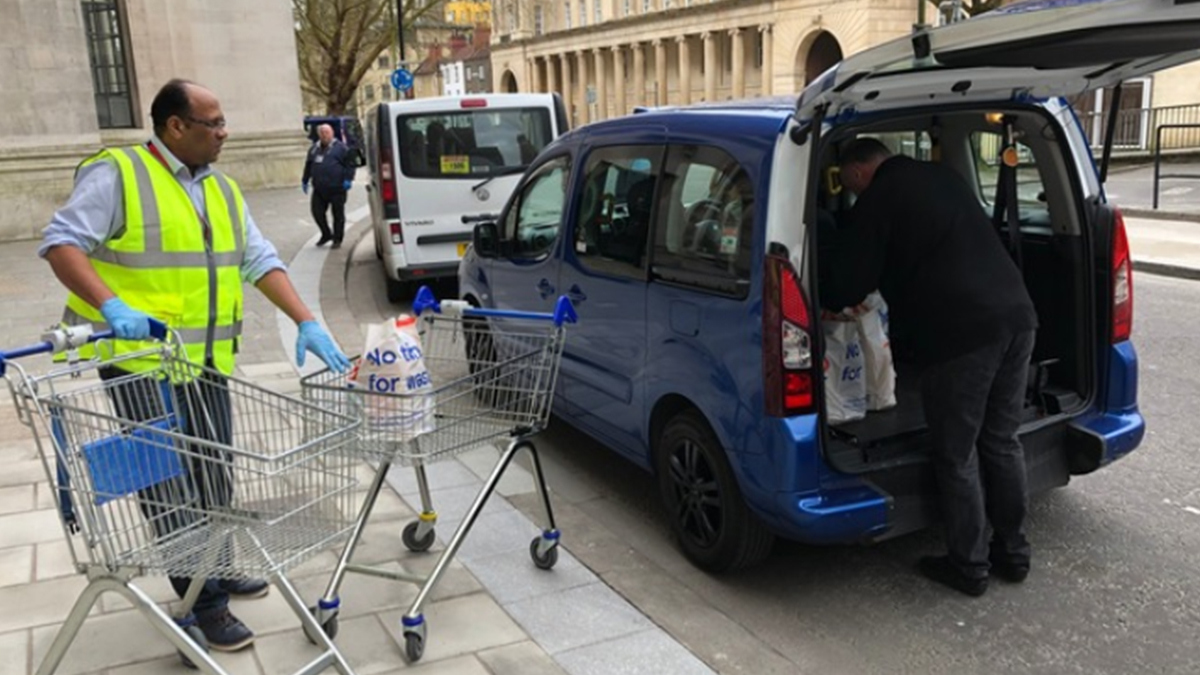 Day to day
If you, a family member or a neighbour need help getting food or medicine or doing other essential tasks, or are feeling isolated or worried:

fill in an enquiries form
call 0800 694 0184 (Monday to Friday, 8.30am to 5pm), translation service available
deaf BSL users can contact the phoneline through a BSL Interpreter using SignVideo
You can find more information for the public on all aspects of the coronavirus pandemic on the Bristol City Council website here.
COVID-19 guidance in Bristol has changed
As of Monday 12 April, many businesses and venues can reopen.

This includes:
Non-essential retail
Personal care premises such as hairdressers and nail salons
Public buildings such as libraries and community centres
Outdoor hospitality venues, with table service only
Most outdoor attractions including zoos and theme parks
Indoor leisure and sports facilities
Other changes:
Care home residents can nominate two people for regular indoor visits
Self-contained accommodation can open for overnight stays in England
Weddings, civil partnership ceremonies, wakes and other commemorative events can take place for up to 15 people
For more details, visit the GOV.UK website.
An update on Bristol City Council services
Please click the links below to see information on each service during lockdown restrictions. Alternatively you can find this information on the council website. 
Coronavirus newsletter
Bristol City Council has a weekly coronavirus newsletter so people can find out what's happening in the city and how they can get help if they need it.
You can sign up to receive the next edition: https://bristol.us19.list-manage.com/subscribe…
Activities
We've compiled a list of activities which you can do online from exercise and culture to learning and skills.
Access to food deliveries
The Knowle West Alliance have contacted local shops and food delivery outlets for the area. Our most recent information can be found below.
Help us keep this information up to date: If you work in a local shop or know of other ways that local people can buy easily buy food please send Frances from Knowle West Alliance an email so we can share this info: frances.coates@kwalliance.co.uk
Bristol Community Meals
Do you need help caring for an elderly person? Bristol Community Meals is a food delivery and wellbeing check service. Find out about prices and arrange a delivery for you, a family member or friend by calling 0117 903 1520 or visit our website: http://orlo.uk/43YIA
Morrisons Doorstep Delivery
If you are vulnerable, Isolating or have an ill child that prevents you from getting your shop, please contact the Morrisons Doorstep Delivery team on 0345 611 6111 and select option 5 to place your order.
Payment will be received via chip and pin on the doorstep. (No cash payments) Due to panic buying, vulnerable and shielding people are unable to book a delivery slot – so this is fast route to ensure those in need receive their groceries.
Access to financial help for food
FOOD clubs – for families who are struggling https://www.family-action.org.uk/…/children…/food-club/
Bristol City Council has supermarket vouchers that can be used to buy food or clothing and top up prepaid gas and electricity meters. They are to help those struggling financially with a one off emergency payment. https://www.bristol.gov.uk/benefits-financial-help/apply-for-an-emergency-payment
Bristol Food Network – directory of organisations working in food poverty & insecurity in Bristol: https://www.bristolfoodnetwork.org/…/food-poverty…/
Food Banks in Bristol:
A. Bristol North West Food Bank www.bristolnorthwestfoodbank.org.uk/
B. Bristol North Food Bank northbristol.foodbank.org.uk/
C. Bristol East Food Bank eastbristol.foodbank.org.uk
Local support and advice
Filwood Hope has been offering support and advice throughout the pandemic via phone.
They can be contacted by text or phone on 0771 266 1241 or email advice@filwoodhope.org
Disabled Adults
Older people
Emotional Support from Oasis-Talk
Oasis Talk are offering free emotional support for people who are experiencing anxiety associated with coronavirus. This support is delivered by a qualified therapist.
Eligibility:
If you are aged over 50 and live in Bristol. Bristol AGE UK are funding our support and can be contacted through their support hub on 0117 929 7537.
If you receive a low income. This is being funded by Quartet Community Funding.
For everyone else, we are offering our usual CBT, Counselling and Trauma therapy at reduced prices to support people through this period.
If you would like to self-refer please call us on 0117 927 7577 or email us at info@oasis-talk.org

Keeping active
Heard everyone talking about Joe Wicks' daily online PE class for children? Well, he also has some home workouts designed for older people.
LinkAge has a list of these as well as plenty of other online videos to help you keep fit and active during self isolation: https://www.linkagenetwork.org.uk/covid-19/
Help to connect with family and friends
The older generation is being given a helping hand to learn how to use video chat apps on their hone or computer.
Here are links to WikiHow which show you how to download and use these apps.
Facetime: https://www.wikihow.com/Use-FaceTime…See more
Grants
Carers
Carers Support Centre in Bristol is urging everyone who looks after someone to apply for a Carers Emergency Card which contacts a 24 hour helpline if you become ill.
You can register for one at https://www.carerssupportcentre.org.uk/our-services/carers-emergency-card/
The charity provides a free wellbeing service with phone support through its CarersLine 0117 965 2200 or CarersOnline: CarersLine@carerssupportcentre.org.uk
It also has a coronavirus FAQ page full of guidance, advice and resources for carers: www.carerssupportcentre.org.uk