Met Office issues amber warning as heatwave returns
The Met Office has issued an Amber warning for much of the South West from Thursday to Sunday (August 11-14) with temperatures expected to rise through the week.
The Extreme heat warning comes as a second heatwave is expected to have possible impacts on health, transport and infrastructure.  
The heat will peak on Friday and Saturday with temperatures likely to reach the low-to-mid 30s Celsius for those within the warning area – but they are not expected to be as extreme as those experienced in July when new national records were set.
Met Office Deputy Chief Meteorologist Dan Rudman said: "Thanks to persistent high pressure over the UK, temperatures will be rising day-on-day through this week and an Extreme heat warning has been issued.
"Temperatures are expected to peak at 35C on Friday and Saturday, or even an isolated 36C on Saturday. Elsewhere will see temperatures widely into the high 20s and low 30s Celsius.
"Coupled with the high daytime temperatures there will be some warm nights, with temperatures expected not to drop below the low 20s Celsius for some areas in the south."
Look out for vulnerable people and take care of pets
The UK Health Security Agency (UKHSA) has issued a Level 3 Heat Health Alert, which is designed to help healthcare professionals manage through periods of extreme weather.
The Alert is in force from Tuesday to Sunday, with the UKHSA advising the public to look out for vulnerable people, including the elderly, young children and those with underlying health conditions.
The British Veterinary Association is also urging people to give extra attention to pets, which may struggle as the temperature rises.
Advice has also been issued by the National Highways to people travelling during hot weather which include planning ahead for your journey and taking plenty of drinking water as well as checking vehicles before heading out.
Find tips for keeping cool in hot weather, as part of WeatherReady.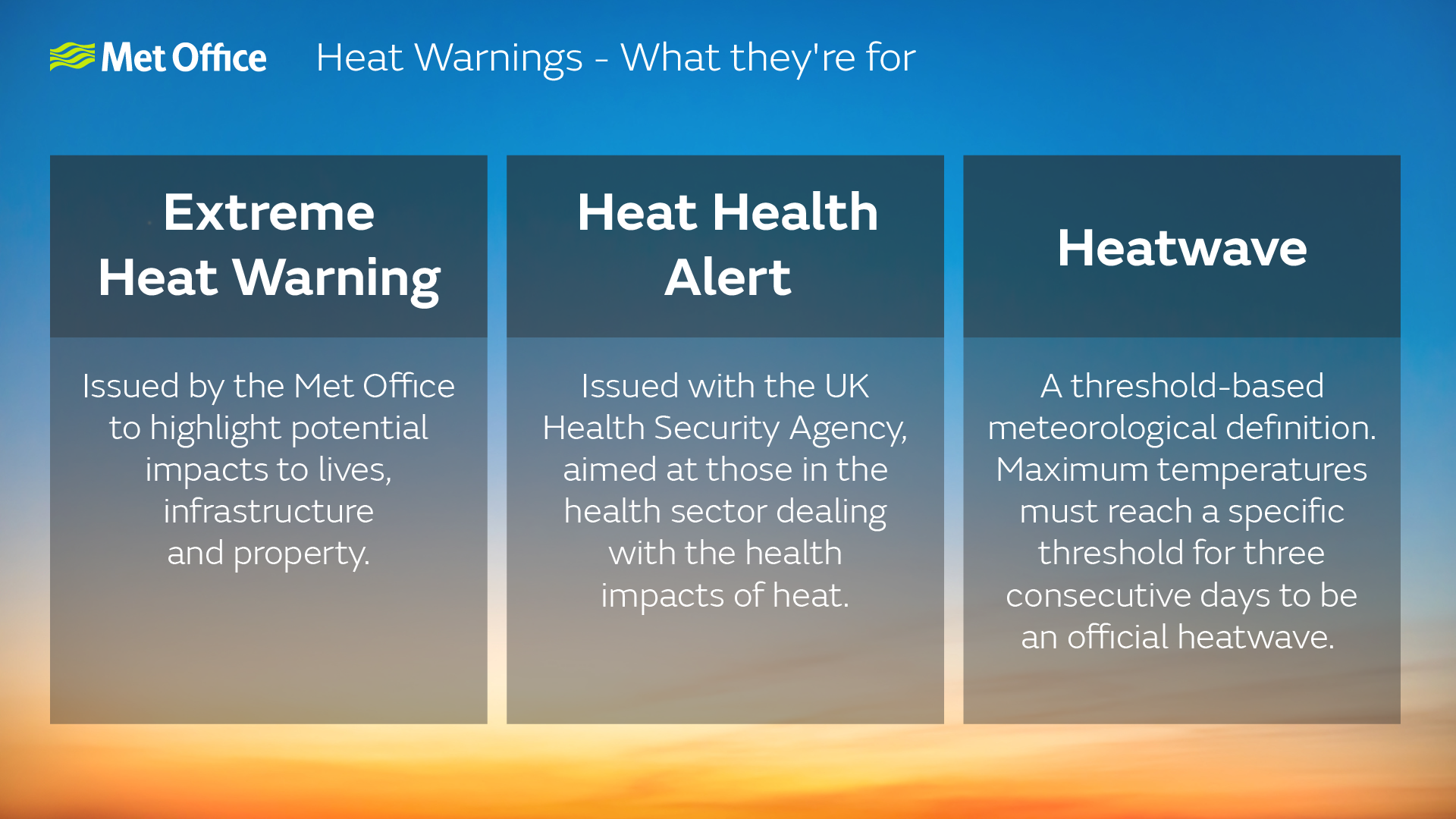 Little rain in the forecast
After the driest July in England since 1935, there's little in the way of rain in the forecast, with only the northwest of the UK likely to see any short-lived showers. with details still being determined later in the weekend and into early next week.
Water UK is urging people to "be more mindful" of water use to "minimise spikes in demand" and make sure there's enough to go around.
Visit https://watersworthsaving.org.uk/top-tips/ for advice on ways to save water.
For the latest forecast visit the Met Office website and keep track of current weather warnings on the weather warning page.
Main image: Met Office